A surprisingly large number of people have suffered from being bullied, harassed or discriminated at work at some point or another.
According to an FEU survey, the creative industries are no exception to this with results showing 'shocking levels of ill-treatment, inappropriate behaviour and a culture of silence, with only one third of those suffering bullying and harassment reporting the incidents'.
Given that few companies have policies that extend to freelance workers, unwanted behaviour can be particularly challenging to overcome.
Help at hand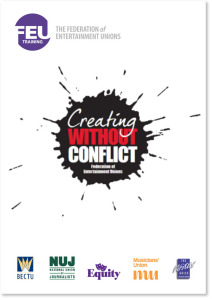 If you experiencing bullying, harassment and/or discrimination, your union can support you. For example:
FEU Training is holding a 'Dealing with Bullying and Harassment' session on Nov 17, which is free to members. Read more and apply now.
The FEU has produced a 'code of conduct' and is working with employers and organisations in the creative industries to adopt this code. It has also published a set of guidelines for freelance workers as part of the 'Creating without Conflict Campaign'.
If you think your are being bullied, you can take the following steps immediately:
Get informed – the FEU's Creating without Conflict booklet is a good place to start and recommends the following immediate actions:

Contact your union representative as soon as possible to get advice
Keep a diary of events and the effects of the unwanted behaviour
Discuss with your union rep what outcome you wish to achieve. Most formal procedures expect you to have tried to resolve the matter informally first.
Finally, don't suffer in silence. Whether, it is union support or support from a colleague or friend, tell someone you trust what is happening and get advice to ensure that you nip the situation in the bud and avoid damaging effects to your work and well-being.