Platforms and Portals
By Caron Lyon from PCM Creative
Five blog posts can't miraculously turn you in to a crowd powerhouse and fund all those projects simmering on the back burner. Looking at the landscape of crowd power and focusing on aspects to consider may inspire you to take the plunge.
My understanding of crowdfunding was helped enormously by my understanding of the networks and audience needed to make it work. Following the projects of singer/ songwriter, Allison Weiss (mentioned in post 2) and independent audience developer, Sally Hodgeson who works with projects to develop crowd funding strategy and campaigns. There are professional crowdfunders.
Setting the goal, reaching the target, collecting the funds and delivering the project
This classic model uses social networked connections, leveraging Facebook and Twitter, interconnecting audiences and outreach to maintain existing fans/audience members.
All of the platforms demand a good set up. Intricate planning is also necessary as there is no money for the project without a successful campaign outcome. So before concluding to leave you to discover your crowdfunding route, getting your money at the end is important to consider.
Money matters - getting to your cash
Here are the main platforms commission or fee policies on campaign completion. Looking at the projects running is the best way to decide which platform to choose.
Indiegogo
It's free to sign up, to create a campaign, and to contribute to a campaign. When your campaign raises funds, Grunder Garage charges a 9.0% fee on the funds you raise. If you reach your goal, you get 5.0% back, for an overall fee of 4.0%.
http://www.indiegogo.com/how-pricing-works-on-indiegogo

Kickstarter
UK projects: If funding succeeds, funds are debited directly from backers' cards. There is a 14-day window for collecting and processing pledges. After that, funds will be transferred directly to your bank account.
http://www.kickstarter.com/help/faq/creator%20questions#PaymUk

WeFund
WEFUND does not charge anyone anything if a project does not meet its funding target. If it does, WEFUND charges the project creator a 5% fee. Paypal charge 3.4% and 20 pence per transaction. So, (if successful) at the end of your campaign, every time you receive a payment Paypal will send it to you minus 3.4% and a 20p fee.
http://wefund.com/frequently-asked-questions/
For Photojournalists
Whilst researching this blog series I discovered a sector specific crowd funding platform for photojournalists which also charges a commission on money generated by your efforts.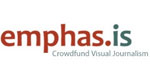 Emphas.is
On Emphas.is photojournalists pitch their projects directly to the public. By agreeing to back a story, for a minimum contribution of $10 the public are making sure that the issues they care about receive the in-depth coverage they deserve. This is the one and only 'perk' - "In exchange you are invited along on the journey."
If a project is fully funded Emphas.is takes a 15% fee towards operational costs. The 15% fee goes towards paying a small staff to run daily operations and maintaining and developing the platform.
Fundraising is an older and probably more familiar term associated with raising money and this final example to explore encompasses collection methods to suit all projects.
GoFundMe
Personal online fundraising websites are perfect for individuals, groups & organisations!
GoFundMe will automatically deduct a 5% fee from each donation you receive. If you don't receive any donations, then you won't pay anything at all. You'll be ask to connect or create a PayPal account inside of GoFundMe during the sign up process. PayPal charges 2.9% + $0.30 per transaction.
GoFundMe users can select between 3 different campaign types.
Personal Donation Campaigns
'Personal Donation' campaigns receive their money immediately - there's no time-limits or collection requirements. Each and every payment you receive is yours! Your GoFundMe page will continue to accept donations even after your goal is met.

Charity Fundraising Campaigns
Money raised for 'Charity Fundraising' campaigns will be sent to the selected charity on a monthly basis. All donations received will be sent via check to the charity or non-profit you select from our certified list.

All-or-Nothing Crowdfunding Campaigns
Select this option if your project or idea requires a certain amount of money. Your supporters will only be charged if you're able to reach your funding goal before your deadline arrives. If your goal is reached, then your supporters will be charged and you'll receive your money. If you don't reach your goal prior to your deadline, then your supporters will not be charged. Learn more about crowdfunding.
Practical guides, tips, resources
How to get crowdfunding
By: Emily Speed
http://www.a-n.co.uk/knowledge_bank/article/1002915/77173
Crowdfunding Resource
Artquest provides everything a visual artist needs to know by encouraging critical engagement and providing practical support.
http://www.artquest.org.uk/articles/view/crowdfunding
Taleist Article
Crowdfunding for self-publishing authors: How passionate fans can make your book a reality. http://blog.taleist.com/2012/02/21/crowdfunding-for-self-publishing-authors-how-passionate-fans-can-make-your-book-a-reality/
Arts channel is brought to you by WeDidThis - Part of Peoplefund.it
WeDidThis continues to grow a new movement of arts micro-philanthropists, dedicated to supporting UK artists and organisations in a new and exciting way.  A UK based leading arts crowdfunding platform, dedicated to making great fan-funded art happen.
In its first year WeDidThis funded over 40 projects from over 1,600 donations. This included everything from an Orchestra pub tour, to a selection of shows at the Brighton fringe and a project teaching street dance to children in Rwanda.
http://www.peoplefund.it/tips/
My closing tips…
• Don't forget which audience you are part of and explore both
• Working the crowd can be a time consuming job
• Factor in the platform commission and paypal fees
• Experience being part of a crowdfunded project.